Soon the warm summer breeze will be floating into Chicago and caressing bare midriffs, clear bra straps, and uncovered knees. The warm weather brings with it a host of interesting fashion possibilities. The flip flop, or the 'foot fuck you', will once again make its presence known as the days draw longer and the sun's rays cascade across the Midwestern landscape.
I enjoy footwear. I appreciate the Nike high-top, the Frye boot, a high heel, or even an occasional wingtip. The flip flop, on the other hand, is by far the most pugnacious of the foot covering devices. It's an arrogant little piece of compressed rubber and plastic. I must be honest and state I have a profound dislike for this piece of footwear when worn by bros rather than hoes. The flip flop's purpose as a functional beach sandal, or shower accessory has recently been over shadowed by its ever increasing popularity among those involved with high minded douchebaggery. Maybe it's my aversion to the sight of another man's toes. Maybe it's because the flip flop's casual fippity floppity sound reminds me that I live in a city filled with idiots. Maybe I don't think the world needs casual, semi-nude, foot wear on men.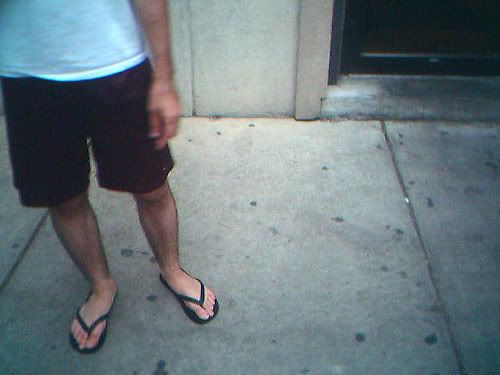 I know there are quite a few flip flop enthusiasts out there, flipping and flopping into dank night clubs, punk shows, IKEA, and the local Trader Joes. It pains me that I can't really defend my opinions about a shoe that is so comfortable and so easy going, but for some reason, makes me feel like I'm receiving a 'foot fuck you' every time I see one flopping down the street. It's quite a conundrum for sure, and yet another reason to look forward to Christmas.