Chicago artist, Tony Fitzpatrick, is a bit of a controversial fellow. He is a large stomached genius to some, a scene hogging, Nelson Algren suckling jerk to others. Whatever side of the fence you are on, there is no doubt that Mr. Fitzpatrick is a formidable Chicago artist, and his work serves as a weird window into Chicago's rather stark nooks and crannies.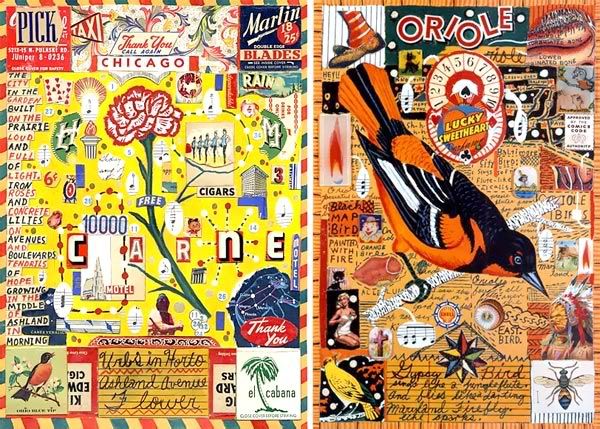 Word on the street is Fitzpatrick was a boxer, a bouncer, and a hard living, gut punching dude who made easy enemies and loyal friends. Whether part of a folkloric identity marketing scheme, or the personal history of an artist living in blue collar Camelot, Fitzpatrick's wacky past lives on in his impressive body of work.
The artist's work is quilt like in its ability to combine multiple images and narratives. Fitzpatrick slams old-school pop culture imagery alongside images about love and loss, urban blight, religion, and personal memories. His colorful images are intimate without being nostalgic and detailed without being overwrought. The artist recently exhibited a series of paintings based on New Orleans entitled,
Prospect New Orleans.
The project gave Fitzpatrick the chance to spend time in the Big Easy and delve into the city's eccentric culture and history.
New Orleans is a wonderful place for great jazz, fast women and strong coffee, but Chicago is Fitzpatrick's hometown. Chicago's lard rich, beer drunken craziness, and rust-filled, transient sensuality is ingrained into much of Tony Fitzpatrick's work. For non-Chicagoans, Fitzpatrick's images may be a bit confounding. What does a skull, a dead butterfly, a whiskey bottle and a Catholic priest have to do with Chicago? With Fitzpatrick's creations, sometimes the joy is in the finding out.