Sam

Prekop

is an

elusiv

e individual. A bus traveler, prone to introspective, beautiful ramblings about 'fox-glove eyes' and 'the sporting life.'' He also seems to have disappeared. The pop singer/songwriter, responsible for a legacy of notable Chicago bands such as The Sea and Cake and Shrimp Boat, seems to have vanished. The Sea and Cake just released a rollicking record entitled Car Alarm, and Mr.

Prekop

has released a book of black and white photographs, both projects to critical acclaim. To add insult to injury, and to complete the hip triumvirate,

Prekop

also makes beautiful abstract paintings based on architectural elements. So where the hell is this creative dilettante? Where does he drink his

Shlitz

and have his morning coffee? I would like to know.


Sam

Prekop's

music is worth seeking out. His tunes are a mixture of

bossa

nova, English pop sensibilities, and jazzy phrasing. The music is also painfully introspective in a way that feels completely wonderful. Those seeking sounds for a romantic evening with an art student should pick up a Sea and Cake record and dim the lights.

Prekop's

solo records are also worth checking out. Visit
Thrill Jockey
Records and pick up a few of his uniquely Chicago sides.
THE SEA AND CAKE / COCONUT
-C-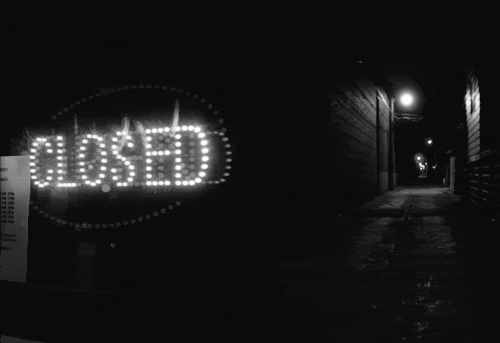 Closed: EndlessBassic Photography C. Arthur / Chicago, Illinois / 2008-2009